We Built Our Own Easels, and You Can Too! (Maybe…)
The Problem
Our studio is already full of easels. We have somewhere between 12 and 15 of them depending on whether we're counting the slightly broken ones that we use only in a pinch. That sounds like a lot but it isn't because there's not one of them that I get to call "mine".
My wife Mindy and I have used the Vitruvian space as our own studio since we opened. Whenever one of us needs an easel, we simply grab one from the general population, set it up somewhere in the studio, and use it there until the next class starts, when it gets sent back into circulation for students. This has worked for years and we can't really complain – we get to choose from a whole roomful of easels whenever we want. How many artists get to do that?
And yet, it's not quite working for either of us. Speaking for myself, drawings and paintings unfold gradually over time, and whenever I have to surrender my easel it feels like an interruption. Imagine if a musician had to swap instruments – arbitrarily, over and over – during a recital. It would be weird and disruptive and would diminish the performance. Call me selfish, but I want to have an easel that nobody uses but me – one that stays put, set up just the way I like it, and doesn't get dragged around the room and messed with before every new class session.
Fundamentally, an easel is just a tool. Its only job is to hold your art steady while you work on it. That's it. Any easel that can do that, and is appropriately adjustable, will do the trick...But the easels that really catch my eye aren't the ones that merely do the job, but manage to do it with a little style.
But what kind of easel?
Fundamentally, an easel is just a tool. Its only job is to hold your art steady while you work on it. That's it. Any easel that can do that, and is appropriately adjustable, will do the trick. But I'm also looking to strike a balance between "function" and "form" – in other words, appearances matter just a little bit. The easels that really catch my eye aren't the ones that merely do the job, but manage to do it with a little style. I know it's silly, but that's just how it is for me.
I'm also hard to please, apparently, because although there are dozens of options to choose from out there, I've not quite found "the one" – the easel with such a compelling combination of features and aesthetics that I just have to own it. Nearly all the candidates I've seen, despite their many strengths, make tradeoffs and compromises that inevitably disappoint.
The Options
The easels I've looked at lately seem to fall into 3 categories:
Too cheap

Too complicated

Almost... But not quite.
Note that "too expensive" isn't on the list. I'll pay handsomely for a good easel because in addition to being a tool, it's also a kind of companion that I'll spend many, many hours with – and I'm choosy about the company I keep. In my opinion (and within reason) there's no such thing as too expensive... assuming it's the right easel for me.
So let's take these in order...
Simple, inexpensive easels have their place and can serve a variety of purposes quite well, so when I say "cheap" I don't mean it disrespectfully. I'm well aware that plenty of artists do beautiful work on very basic, inexpensive easels. But nevertheless, in my experience "budget" easels tend to be lightweight, break easily and become less stable over time. This category includes most A-Frame and T-Frame models I've tried. They're good straight-forward easels for light or occasional use, but I'm looking for something more solid and robustly built.
Too Complicated
I'm a little surprised at how complex some easels have become. I suppose artists use their easels in lots of different ways, and manufacturers do their best to meet those needs with more and more available features. The result is a host of offerings, some of which seem a little over-engineered.
For me, easels in the "too complicated" category feature things like double-masts, cranks and winches of various kinds, electric motors, or the ability to pivot to a horizontal position making a weird kind of table. While there's nothing wrong with any of these features per se (double-masted easels are good for supporting very large canvases, for example), they all come with a surplus of joints, hinges and clamps that are prone to break and don't contribute any functionality I'm actually seeking.
An example of what I mean can be found in the Best Manhattan easel, which features a pivoting "carriage" that can be adjusted independently of the primary easel frame. While I can imagine this design makes the easel more adjustable – and I'm sure some artists love it – I found its dense array of struts and knobs befuddling as I examined one in a store. After 15 minutes of twisting and prodding, I still didn't know why it has to be so convoluted.
Almost... But not quite.
The irony here is that the easels we already have at the studio are pretty close to what I want – sturdy H-Frames that have withstood over 12 years of constant abuse. While we've had to replace the hardware a few times (mostly due to stripped threading on the bolts), they're as stable today as when we bought them. They're good, solid workhorses.
Quality H-frame easels are available at a variety of price points, starting at around $300 for something like the Best Classic Dulce – which is very similar to what we have at the studio. If you're willing to step-up in price a bit, $800–$1,000 will get you something with more heft, like the Best Santa Fe easel or the Mabef Master Studio Easel.
At the high end, there's a handful of "Cadillac" models available (or is it Lexus?... Anyone a fan of The Wire?). These tend to be "professional" calibre easels that are even larger, accommodate a huge range of canvas sizes, and may even feature counterweight systems for easy adjustment (more on this later). Among these is the Sienna counterweight easel for $1,300, or the Hughes easel, which starts at $2,199 and tops out at $4,699.
So why don't I just get one of these? There are two problems: One is the lack of a large shelf for my palette. I ditched using a hand-held wooden palette years ago in favor of glass. I love using a glass palette for lots of reasons, but they do tend to be heavy. Some kind of "taboret" (a french word for a small artist's table) is a must, and ideally I'd like one that's attached to the easel – that's the "shelf" I'm talking about. Such shelves are a feature on most of the easels we already have in the studio, but alas that was a custom option that is no longer available from the manufacturer, so I've got to find an alternative... and so far, what I've turned up isn't quite right.
The other problem relates to canvas size. Most of the inexpensive H-frame models out there are difficult to use with small canvases while seated. The center mast is designed in such a way that the top support can't be positioned lower than about 4 feet off the floor. If you sit to paint (which I do sometimes) and you're working on a small canvas (which I do often), there's simply too much space between the upper and lower painting supports. This leaves the top of smaller canvases unsecured, and prone to fall forward onto the floor... or onto your palette, which is a huge bummer.
While it's possible to improvise a solution to this problem using clamps or other hardware, why should you have to? Remember, an easel's only job is to hold your art steady while you work. In my opinion, any design that doesn't do that consistently is flawed – even with small canvases while seated. Most high-end easels don't have the same problem, but of course they still lack the taboret shelf.
I admit it may seem drastic, but after lots of fruitless searching I started to wonder whether building an easel from scratch might be a possibility. The obvious advantage is that I'd be able to have everything I want and nothing I don't. The disadvantage is... well... building a f#@%ing easel.
I admit it may seem drastic, but after lots of fruitless searching I started to wonder whether building an easel from scratch might be a possibility. The obvious advantage is that I'd be able to have everything I want and nothing I don't. The disadvantage is... well... building a f#@%ing easel.
Neither my wife nor I is an experienced woodworker (Mindy will back me up on this, trust me.) If I'm going to do something like this, I need a plan – a simple plan that doesn't require exotic skills or expensive tools. My initial Google searching didn't turn up much, until I stumbled upon a website called Artist Easel Plans, which sounded promising. Featured there is the Cadmium H-Frame Easel – a sturdy-looking specimen featuring a counterweight mechanism and an optional taboret/shelf attachment. I couldn't believe my luck. When I showed the site to Mindy, her pupils dilated. She's looking for the same kind of easel as I am and told me that if I'm serious about building it, she's in. That's great because she's good with power tools and I can use the help, although now we're looking at building two easels. Damn it.
I know what you're thinking: this is going to be difficult. And I half-agree with you. The plans for the Cadmium are, in fact, pretty simple – just as advertised. The problem is that they still require a range of tools and know-how that aren't really in our wheel house. But we had an opportunity recently: we've been undergoing a home renovation that involves some custom woodwork. When our contractor (who also happens to be our cousin Brett) learned of our ambitions, he urged us to get cracking on the easels while his workmen – and all of their tools – are at our house everyday. That way, we can make use of gear that we don't already own, like a table saw, a sliding compound miter saw, and a nail gun. If we run into trouble, "the guys" as we affectionately call them, will be around to help us out.
Giddy-up.
The Plans
The Cadmium's signature feature is a counterweight system that allows for adjusting the height of the easel with "fingertip ease". To accommodate the mechanism, the easel sports a compound frame – an outer stationary fame which supports most of the weight, and an inner "slider" frame that moves up and down on a tongue-and-groove track. To counterbalance the weight of the slider (which carries with it the center mast, painting supports, the taboret, and your artwork), the plans suggest using barbell plates suspended on a simple rig of ropes and pulleys – as the slider moves up, the weight moves down and vice-versa, much like how an elevator works. The overall effect is that when adjusting the height of the slider, the whole assembly feels lighter than it actually is because the counterweight provides a nice assist.
This whole business puts the Cadmium dangerously close to the "too complicated" category described above. But I've been "counterweight curious" for a long time, considering options like the Hughes easel and the Sienna counterweight easel, so I was inclined to give the Cadmium a shot despite the complexity. Any remaining reservations I had evaporated when I discovered that Bob Perrish, the man behind Artist Easel Plans, isn't "just" a woodworker (no disrespect to woodworkers intended), but is an accomplished painter in his own right who actually knows what it's like to use an easel every day. I figured it was worth the $35 for the plans to find out more.
I should note here that the plans aren't available in digital format – there's no PDF. If you buy them, you'll have to wait for Bob to mail you a hard-copy. I wasn't in a hurry so I didn't really mind, but I'm just so used to being able to click that "Download Now" link.
The plans arrived a few days later and they were exactly what I was expecting. At 23 pages, they're quite thorough, with plenty of clear diagrams and photos. The build procedure is laid out in sequential steps, each one anticipating the next, and Bob's descriptions make it easy to understand how all the pieces should fit together. He also includes a comprehensive parts list, including Rockler.com part numbers for some of the harder-to-find items.
Be aware, however, that these plans are definitely written for an American audience – if you want to try building one of these in most other parts of the world, be prepared to deal with US measurements and metric conversion.
The Build
With Bob's clear shopping list to guide us, getting all the required materials was easy. We got most of the stuff at Menard's, but Lowe's, Home Depot or any other well-stocked hardware store will do the trick. The only pieces we had to order online were the 5-star knobs and T-bolts, which are "specialty items" and not stocked at the store.
Our first big decision was to choose what kind of wood to use, which is mainly a matter of price, aesthetics and personal preferrence. We decided to go with oak because that's what our existing studio easels are made from, and it performs well under duress. But if you choose to go with hardwood, you should probably plan to use a nail gun. Once we started assembling the easels, it became clear that tapping dozens of finishing nails into solid oak by hand would take forever, and probably require pre-drilling the holes. But the guys had a pneumatic brad nailer lying around that made short work of it, so thank heaven for power tools.
Bob has already done the math with respect to the dimensions of boards to buy, but we improvised a little there. He suggests buying a number of 1x6's and "ripping" them down to the required widths (a "rip cut" is made parallel to the wood grain, so in this case it means feeding the boards length-wise through a table saw). But Menard's offers a range of pre-cut, pre-sanded boards in many of the sizes we needed, which meant less ripping and less chance of cutting off our fingers, which is fine by me. (Thanks for the tip, Brett!)
A word to the wise: consider the quality of your boards carefully before you buy! Look for blemishes like knots, gouges, dents and dings, and be sure to check for warps by holding each board up to your eye length-wise – like you're looking through a telescope. We had to rebuild one of our easel frames because we failed to notice that the wood was warped, preventing the easel's counterweight slider mechanism from working properly. This was one of our bigger rookie mistakes.
Once the boards are cut and the hardware is procured, it's time to get building, and you'll want to make sure you have plenty of space to work. The longest of the boards is well over 6 feet, so it's not something you can do in a closet. Also, some kind of sturdy table will be a real asset so you can clamp the boards down to something while you glue and nail them together. We made heavy use of our kitchen island for this purpose – just take care that you don't damage your furniture.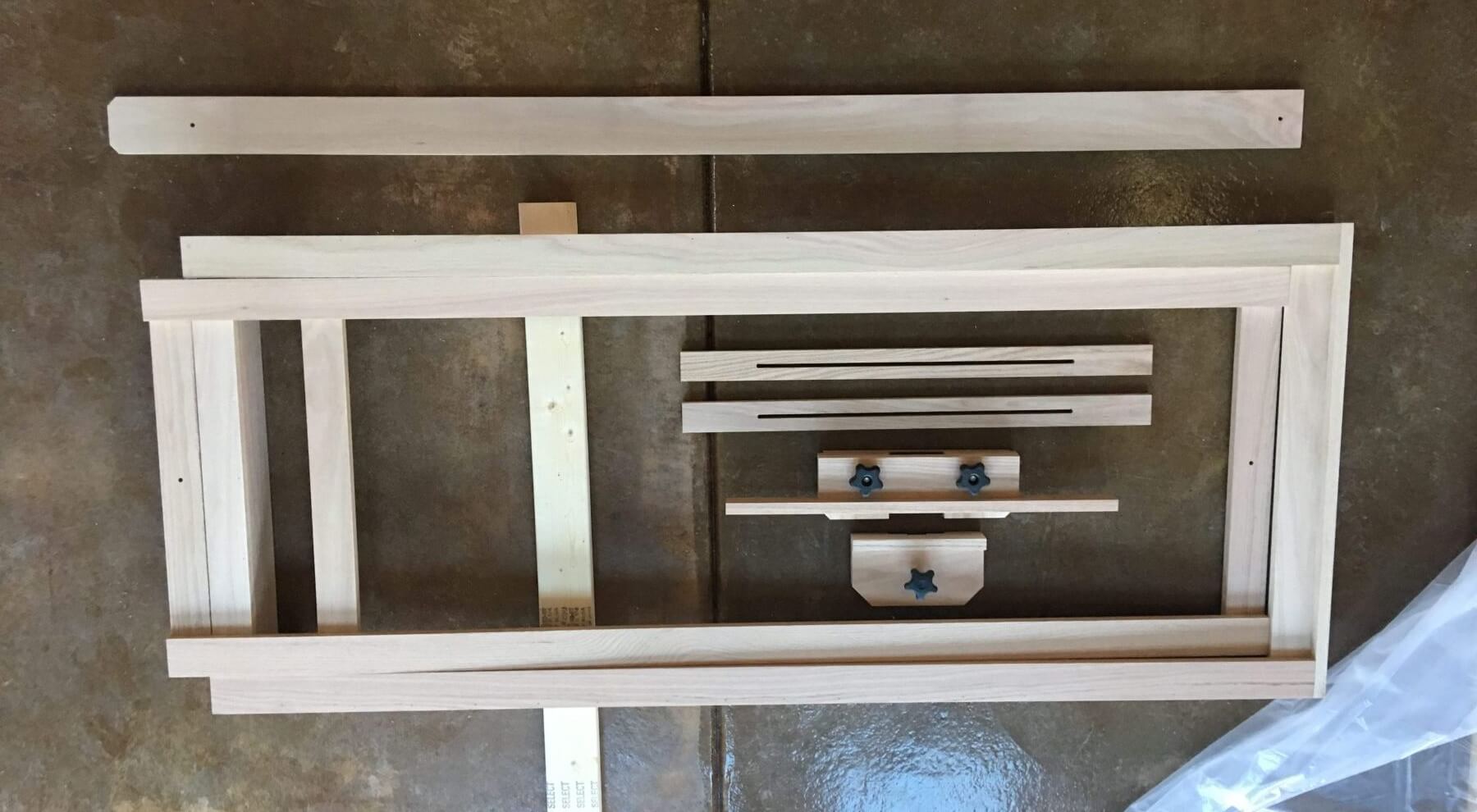 The actual build went about as smoothly as we expected, which is to say some of it seemed easy, and some of it not so much. One thing I found consistently surprising, however, was how long it took. We worked on the easels in the evenings after dinner. In the plans, each step seems pretty straight forward – "We can knock that out in a couple of hours." I would think to myself. But each evening, two hours would turn into four, then into six, and we ended up putting in a lot of late nights. I honestly don't know if the slow pace is because of our sheer inexperience, but we found that cutting and assembling wood with care isn't a speedy business. All told, it took us about a month to complete the easels, from our first read of the plans to final assembly. We didn't work on them every day, and that month includes time spent back-tracking to redo steps that we screwed up. But if you plan to build one, you should probably budget the same amount of time, assuming a similar level of experience and that you'll chip away at this in your spare time, like we did.
There are other variables to consider. The taboret shelf is optional, and is also one of the more complicated components of the design. You could choose to omit it and save yourself some time. You could also choose to paint your easel instead of stain it. We opted for stain, but that requires subsequent applications of a clear-coat finish. Three coats of polyurethane looks beautiful, but it does add to the completion time for the project – each coat has to be dry and sanded before the next one is applied. It turns out that wood finishing is a bit of an art form in its own right, so I spent some additional time absorbing YouTube videos on the subject before attempting it myself.
We didn't go off script very often – Bob's plans are very well thought out, so there's little reason not to take his advice. But we did opt for black hardware where possible because we preferred the look of it to standard zinc hinges and carriage bolts. We also purchased some sandbags to use as counterweights. We tried the suggested barbell plates, but the movement of the iron plates seemed likely to dent and scrape the wood. The nylon sandbags are soft-sided, so they're much kinder to the finish.
The Easels
So what are they like? I'm happy to report that we absolutely love them! First off, these are by far the biggest, and heaviest easels we've ever owned. Bob calls this "an easel for a lifetime" and that's no joke – decades from now, I imagine being able to pass this down to some lucky student. Each one stands 7 feet tall (with casters), and weighs just shy of 80lbs (that's not including the 25–35lbs of counterweight). They're just beasts. This means that they're extremely stable – there is absolutely no wobble or creak anywhere, and you can lean-in on them while working and they just won't budge. That's all great, but you need to be sure that a) you have room for one, and b) that you're strong enough to move it. Some of the weight is due to our decision to use oak – which is dense and heavy – and attaching casters to the bottom will help with mobility, but make no mistake: these are very robust easels.
Second, they look beautiful, which I credit more to the design than our woodworking prowess. The compound frame contributes a satisfying thickness to the easels, and the luster of the stain and the 3 coats of polyurethane makes them look like fine antique furniture. More than one friend has remarked that they look like something you'd find in a Frank Lloyd Wright home, and that's not much of an exaggeration. This kind of aesthetic is a mixed blessing, however. On the one hand, I'm happy to own such a beautiful thing and even happier to have made it myself. On the other hand, I need to use this for real work, which means it's likely to get dents and dings and paint all over it. It's tempting to fetishize an easel like this and want to keep it pristine, but that would be counter-productive. I'll say it one last time: an easel is just a tool – like a hammer or a screwdriver – and it's pointless to be precious about it. With an easel like this, however, "letting go" will take some real effort.
Third, and perhaps most appealing, the cost of the easels is extremely reasonable. All told, we spent somewhere around $500 USD on parts and materials for both of them – that includes buying additional wood to fix our mistakes, and re-purchasing hinges and bolts after we changed our minds and decided to go with black hardware. If you're efficient and choose the most inexpensive materials, Bob says you could build one for as little as $150 USD. For an easel of this quality, that's an absurdly low cost – provided you're willing to invest the work.
The Last Word
In the end, I'm really happy we did this. The easels meet our needs perfectly, and we get the satisfaction of having built them on our own (aside from borrowing some tools, we didn't need help from "the guys" after all). It was also a lot of fun. We both enjoyed having an end-of-the-day project to putter on, and while Mindy and I had our disagreements during the build, we're still married and even have some good memories of the experience.
So should you try making one, too? I think you should, with the caveats already mentioned: make sure you have appropriate space, both for the easel itself, and for the build procedure. Woodworking isn't exactly a "low impact" activity – you should expect lots of dust and fumes and the usual risks that come with using power tools. Also, while the plans make the build as easy as possible, it's not exactly easy for novices. Perhaps Bob addresses this subject best in the Q&A section of his website:
QUESTION - How hard are these projects to build?

ANSWER  -  Some woodworking experience is necessary for sure. Assembly is done with some finish nails, some screws and glue. The wood will have to be cut to size which requires a table saw. A drill and simple hand tools like a hammer, screwdriver, measuring tools are needed. If you are experienced with a table saw, everything is very simple[...] If not, you could ask people you know to cut the wood for you and you could assemble it as well.
So there it is. If you're looking for a beautiful, sturdy new easel, and you have the means to build one, you can order your copy of the plans here. In the meantime, check out our Cadmium builds in the gallery below. Let us know what you think in the comments!
Our Cadmium H-Frame Counterweight Easels: