Learn to Paint a Beautiful Still Life in Oil at Vitruvian Studio.
We do a lot of still life painting here at Vitruvian Studio because it's an excellent way to develop painting skills. We live in a world that contains an endless variety of material objects to paint, and each new still life arrangement presents different structures and surfaces, local colors and textures that challenge students to strengthen and diversify their painting technique.
This extensive online course presents the complete procedure for painting a still life in oil that we've been teaching here for years. The course is thorough, featuring 43 distinct lessons and over 17 hours of video. We begin with introductory lessons about paint, painting technique, and color that provide general concepts for students to keep in mind while working. Then, the course takes a deep dive into a full-length video demonstration that walks students through the sequence of steps for completing a finished painting. We assume no prior oil painting knowledge or experience, and the course proceeds sequentially, each lesson building upon what was presented previously.
In addition to the videos, written material is included on each lesson page that details key concepts to keep in mind while working. This written content is also available in handy downloadable PDFs at the beginning of each module for offline reading.
As with all our online courses, once you've enrolled your access will never expire. This allows students to absorb the material at their own pace, and return to review the course at any time in the future.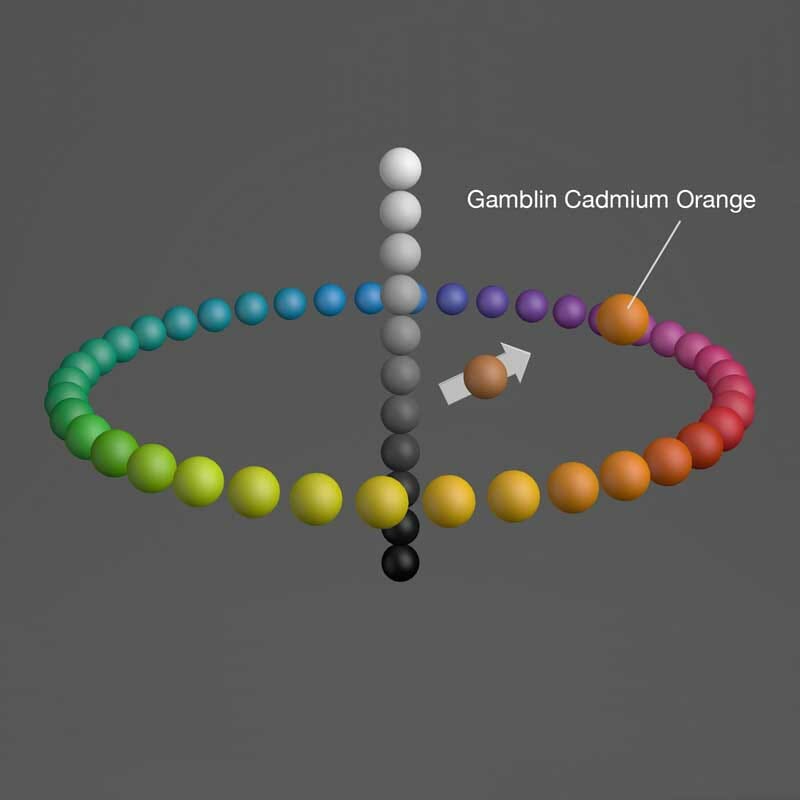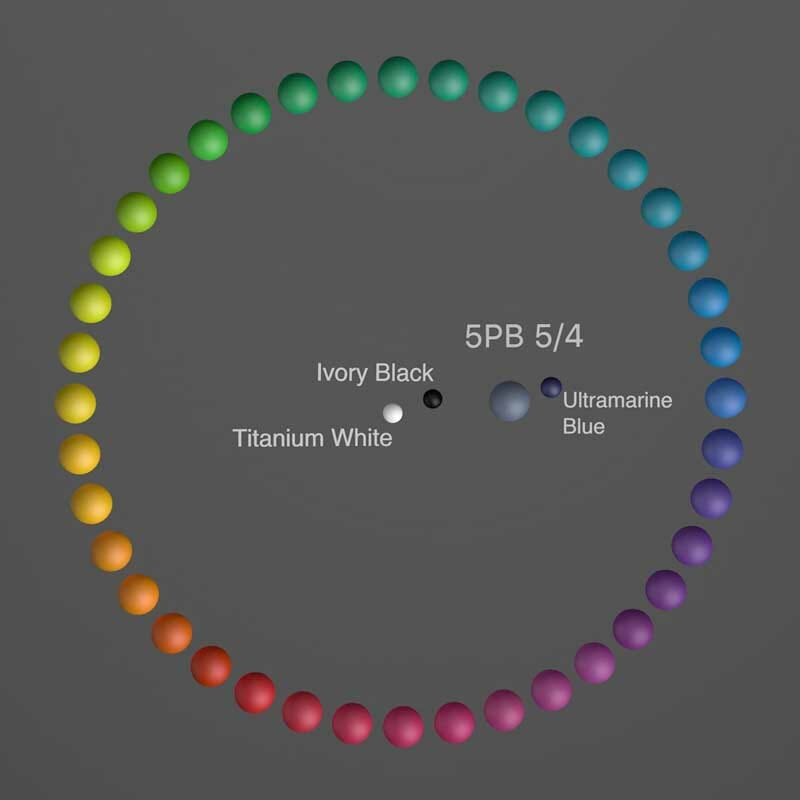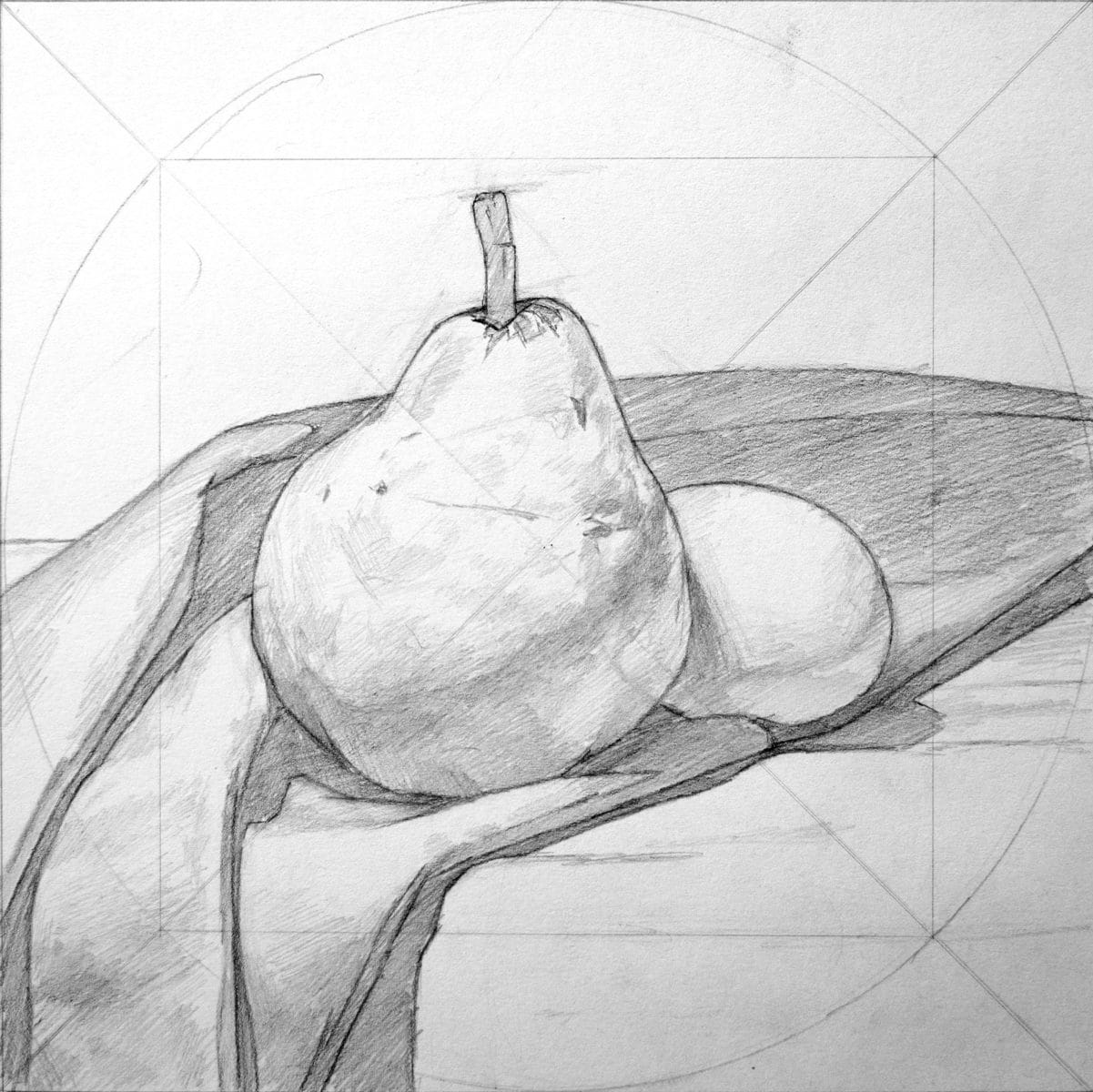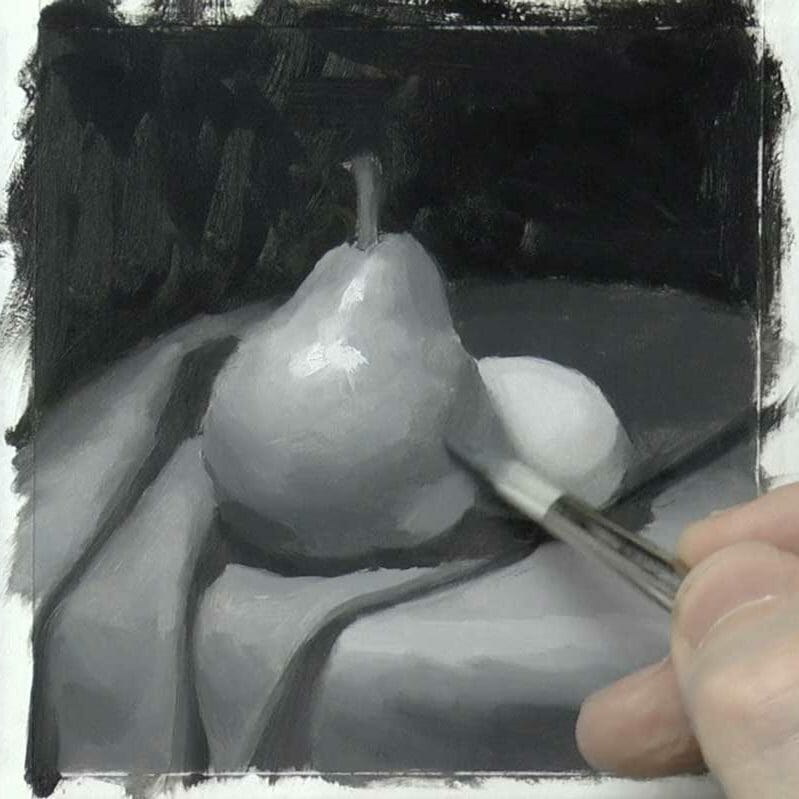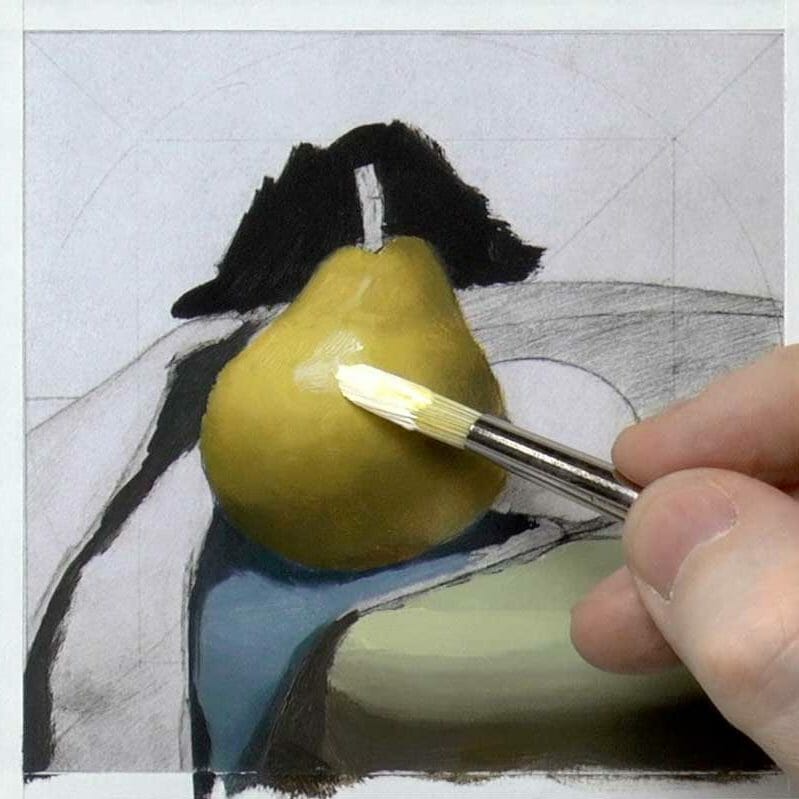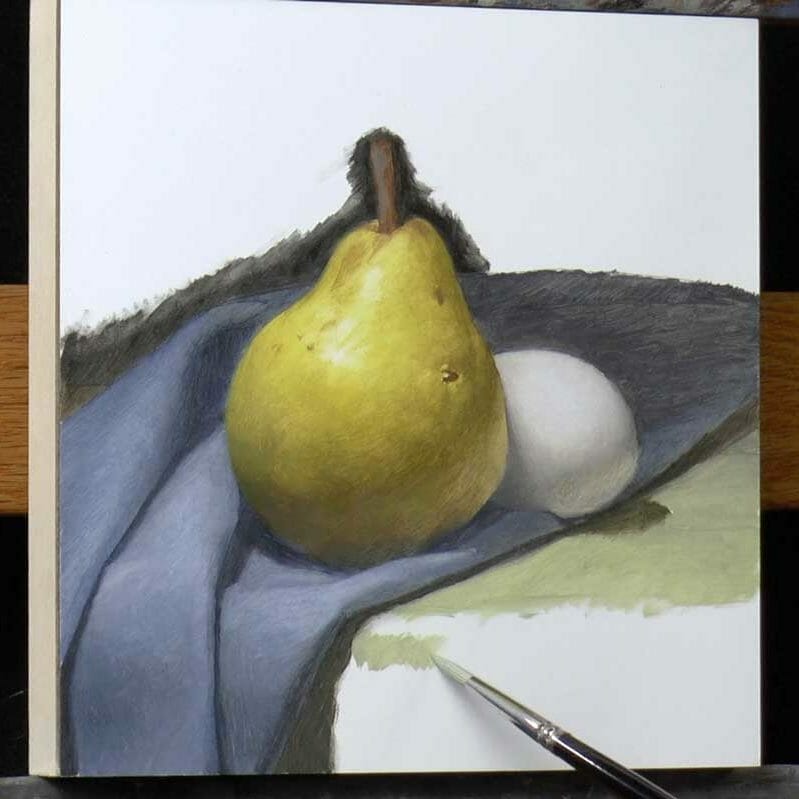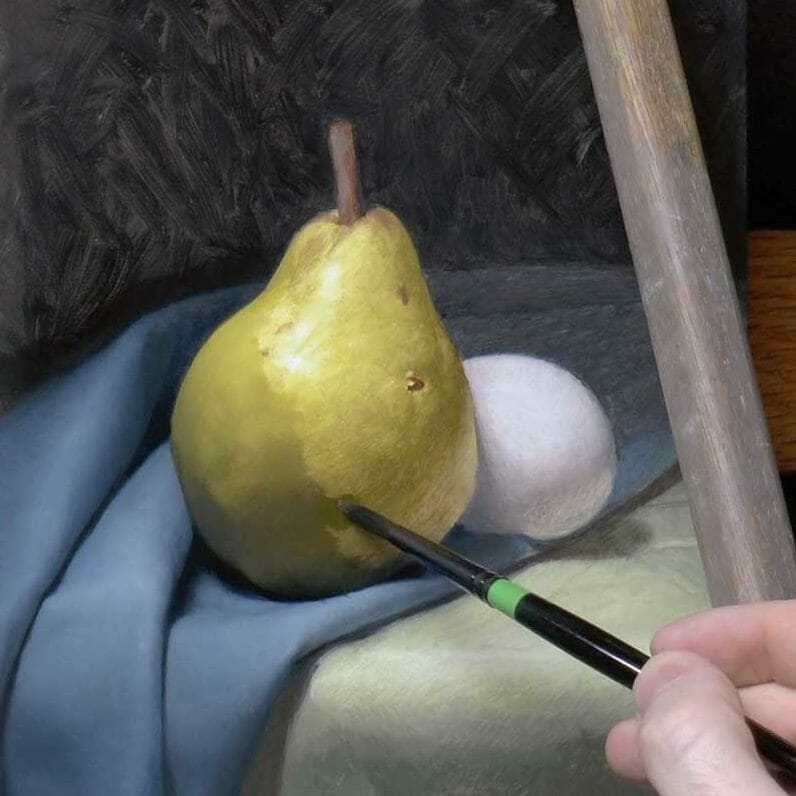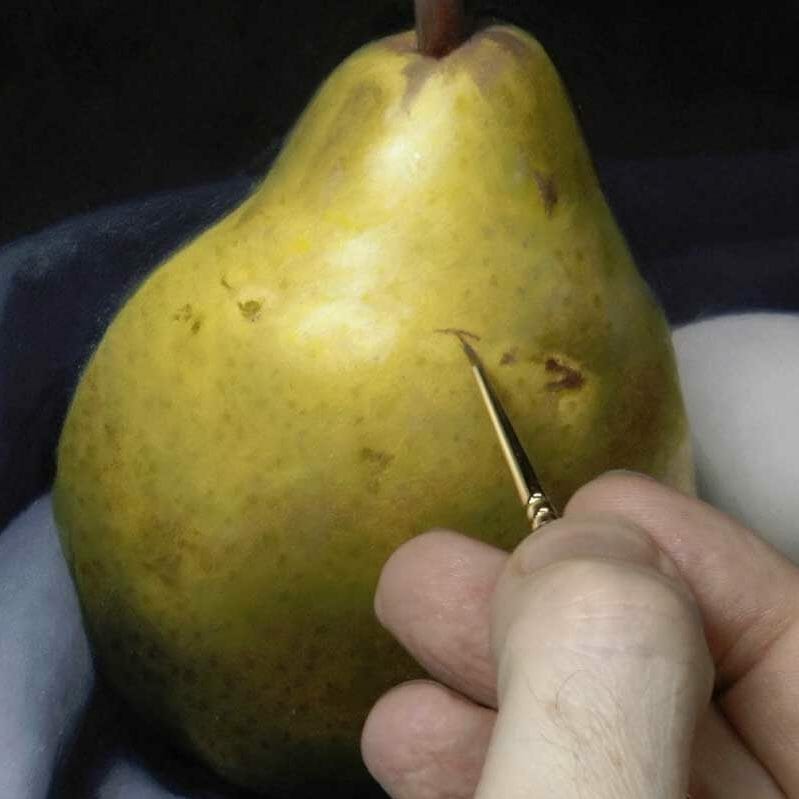 What you'll learn in Still Life Painting – The Online Course:
A sequential oil painting technique that works for painting anything
Details about the painting materials we use with students and why
A logical approach to drawing for oil painting
A framework for understanding color and color mixing
A strategy for choosing the right paints for the palette
An efficient way to do painting studies that aid in the development of a completed oil painting
Methods of measuring and sighting that help you understand the proportions of your subject and help you identify and solve problems.
A procedure for developing an oil painting in a number of layers, or "passes".
Principles for understanding light and form and their interaction.
A complete method for completing an oil painting from first marks to final details and varnishing.
What Our Students Say About Our Online Courses:
I just completed the Still Life course with you on-line and I am so satisfied with the process you created. First, it felt like I could have been in the studio with you as you took a relaxed approach carefully explaining each step and giving many worthwhile tips. While it felt relaxed, it was also demanding and that was good Your skill as a teacher is matched by your wonderful artistic accomplishments. So thanks again.

– Wayne, Victory, CANADA
Thank you for putting the time and effort to demonstrate the [still life painting] technique. I particularly appreciate that you recorded it in its entirety. This allowed me to see how you adapted to correcting wrong decisions, but most of all you demonstrated how to look for the subtleties of form that up to now I was completely overlooking.
While many would not think that the shared opportunity to watch paint dry is exciting, I can assure you, that the adventure you took me on was indeed thrilling.

– Richard, Toronto, CANADA
It just occurred to me it might be nice if I let you know how much I am enjoying the Drawing Basics course. It is confirmation that logic is our friend.

– Joy, The Hague, NL
Here's What You'll Get Instant Access To: 
9 Step-by-Step Modules containing 43 lessons with over 17 hours of video content
A complete painting demonstration presenting the entire process, truly from start to finish
Clear, practical information about color and color mixing
Diagrams and animations to illustrate key concepts
Downloadable PDF Guides for each module.
A discussion of painting materials and their uses
Lifetime Access to the Course -- Go At Your Own Pace
Free Lifetime Updates
Question & Answer threads on each lesson page
Suggested Items:
This course guides you through a procedure for painting a still life in oil. As such, painting supplies are required if you're going to complete the course work.
A full materials list is available in the course if you prefer to do your own shopping, but we also offer a kit containing most of what you'll need.

About Instructor
Login
Accessing this course requires a login. Please enter your credentials below!